Gone are the days when Pastors pride themselves (and then complain) about being too busy for the Lord. Busy doing almost everything themselves; from preaching to teaching, to praying, visitation, evangelism, counselling and even leading the Worship.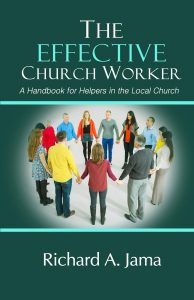 This situation results in the Pastor wearing himself out while other ministries or gifts in the local church are left  undiscovered, undeveloped or are stifled altogether.
In Exodue 4, God called Moses to send him to Pharaoh, but Moses complained of his inability to speak well. However, instead of God healing that disability or weakness, He sent him Aaron who could speak very well. Very clearly, one man's weakness became another person's ministry! God could have simply healed Moses or insisted on him doing it all by himself, if He really wanted him to. Later on in his ministry, Moses was advised to choose more people (workers) to help and relieve him (Exodus 18).
This book, The Effective Church Worker,  gives some insight into how you, the church worker, can relieve and release your Pastor to concentrate on the main vision God has given him by faithfully and effectively undertaking your service or ministry in the local church – as God intends.
"This excellent resource … sets out a road-map for those who are serious about bringing their best to God …"
– John Glass
(Former General Superintendent, Elim Pentecostal Churches UK)
The Effective Church Worker
by Richard A. Jama

Out Now!!